Our yearned-for summer is finally here. Even the air we breathe seems filled with desire for jaunts outside, far from the stress of the city.
Amid the vines, time seems to stop, making them a charming place to rediscover lost peace and guarantee complete relaxation, along with tradition, nature and good food.
The Langhe district offers a perfect mix of all these ingredients, owing to its illustrious gastronomic past, a pot-pourri of flavours from a land that produces fine dishes from excellent raw materials, an ideal spot for lunch outside in the fresh air.
Summer is the perfect moment for an alfresco lunch, a vineyard picnic for a sense of freedom and instant escape, without denying the pleasure of good cooking and lively company.
Today we often think of the vineyard as an exclusively agricultural domain.
However, in reality it is an essential component of slow tourism in the Langhe, and plays an important role in revaluing local traditions and celebrating its identity.
A picnic in the vineyards brings its own distinct rituals and is the perfect opportunity to take refuge in nature, an out-of-doors that reinvigorates in tandem with a glass of good wine.
All this, against the magnificent backdrop of the Langhe, overlooked by castles and the splendid vista of the Piedmontese landscape, makes a picnic a unique epicurean experience, and the choice of wine a search to combine taste and personality.
Which wines to put in the picnic basket?
The best idea is to start with simplicity, while aiming for authenticity and adhering to the history of the place.
Barbera d'Alba DOC
Barbera d'Alba is a classic among Piedmontese wines. Exceedingly versatile in food pairings, Barbera d'Alba is an ideal accompaniment to traditional Piedmontese first courses, grilled meat and medium-aged cheese. Serving temperature: 18° C.
Why not aim for a tasty recipe, easy-to-prepare, to eat with your fingers? A Piedmontese hamburger is perfect for the picnic hamper, and making it couldn't be easier: ground Fassona beef, Piedmontese toma cheese and salsa verde.
Langhe DOC Rossese Bianco
A Langhe Rossese Bianco is the ideal, harmonious white wine for a 'déjeuner sur l'herbe', with its distinct yet versatile character. This wine is excellent paired with vegetables, antipasti and fish dishes in general. Serving temperature: 12° C.
A vegetable quiche is essential to any outdoor lunch and the traditional Piedmontese version is both quick and creative. Rice and spinach tarte is a delicious amalgam of wild herbs, Arborio rice, spinach and eggs. So why be satisfied with the usual rice salad?
Moscato d'Asti DOCG
Moscato d'Asti is an impeccable finish with dessert. A congenial dessert wine, Moscato's gold gleam reflects a sun-filled day perfectly. Moscato, chilled to 10°C, is divine with Piedmontese biscuits.
So ask for baci di dama, amaretti, paste di meliga or torcetti in the local pastry shop and return to the golden afternoons of childhood. No one can resist these pastries and they are just the thing to create a connection with the flavours of the Langhe terroir.
What can you expect of a vineyard experience? A memory connected more to an experience than to a place, to personal exchanges, to rediscovering nature and giving meaning to time.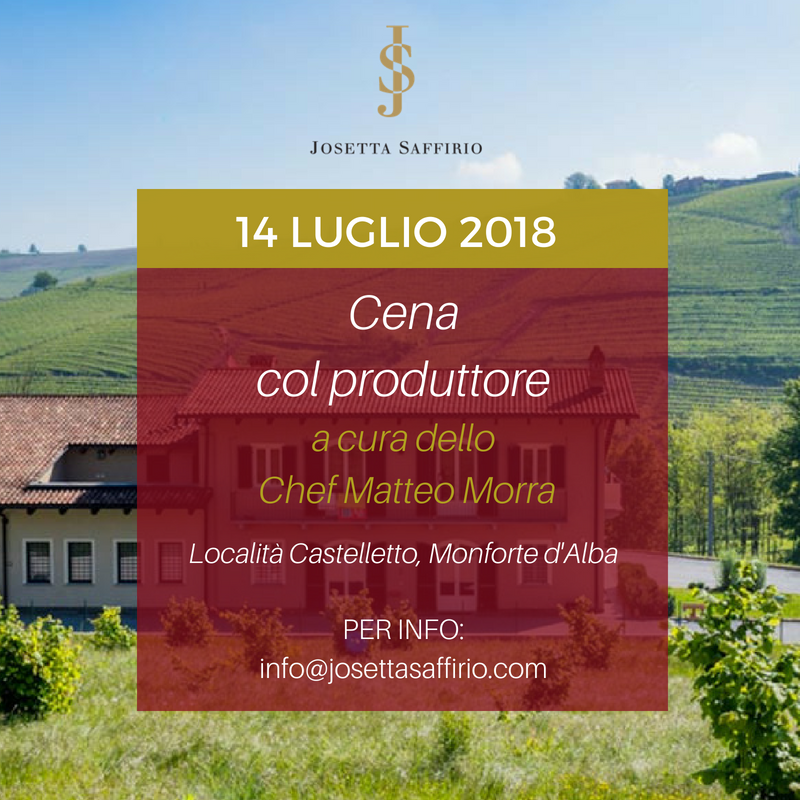 In Monforte d'Alba, at the Josetta Saffirio Estate you can now also taste an aperitif in the vineyard: On July 14th from 18 on, you can try a different kind of happy hour with a visit to both vineyards and cellar, followed by dinner with chef Matteo Morra.
What will we eat? The evening will begin with Langhe finger food. The menu, concocted by chef Matteo Morra, will begin with an entrée of scallops accompanied by potato and black truffle mousse, followed by traditional Piedmontese 'tajarin' pasta with prawns and porcini mushrooms and a second course of pigeon with summer vegetables. A selection of Langhe desserts will crown the meal. Dinner will close with coffee and Barolo Grappa, aged for 12 months in French oak casks.
The dinner will cost €100 per person.